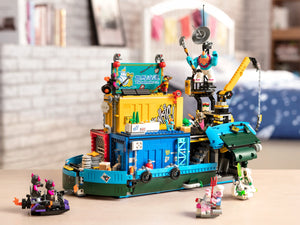 LEGO® Monkie Kid's Team Secret HQ (80013) Introduction
Buy LEGO® Monkie Kid's Team Secret HQ (80013) at Lego Malaysia Official Shop Brickstown Creation | Buy Official Lego products Online. at brickstowncreation.com | 100% Original and Authentic products. Membership Special Deal.
Buy LEGO® Monkie Kid's Team Secret HQ (80013) playset at https://bit.ly/3t7sL0i​​ now.
Let children discover the cool features inside LEGO® Monkie Kid's Team Secret HQ (80013). This LEGO ship toy opens up and can be divided for easy access to the detailed living area, workshop, posable mech and more. The toy crane on the deck can be used to grab the Bull Clones' stud-shooting assault boat, and Pigsy and Mei's fun buildable water jets add to the battle play options. A fabulous gift idea for kids, this LEGO set includes 7 minifigures with weapons, plus Sandy and Mo the cat figures to role-play exciting adventures.
Interactive instructions
Check out Instructions PLUS, available within the free LEGO Life app, for this collectible toy. It allows children to zoom into, rotate and visualize the model while building the real thing.
Educational and fun!
Inspired by Monkey King tales from the classic Journey to the West novel and rooted in China's culture and values, LEGO Monkie Kid™ toy playsets help children to develop their creativity, bravery and resilience.
There are surprises galore inside this LEGO® Monkie Kid's Team Secret HQ (80013) model for children, which opens out and can be divided into three for easy access to the workshop, living area, a posable mech and more.
Kids can role-play epic battles as their favorite characters, with Monkie Kid, Pigsy, Mei, General Ironclad, Snort, Grunt and Roar minifigures, a Sandy figure and Mo the cat figure, plus cool weapons like The Golden Staff.
This creative toy is packed with fun features to inspire play, including the LEGO® ship toy's crane to hook the Bull Clones' stud-shooting assault boat and jet pack, and Pigsy and Mei's cool, stud-shooting water jets.
An awesome birthday, special-occasion or holiday gift idea for kids aged 10 and up, this 1,959-piece LEGO® set offers a challenging, rewarding build and many hours of enjoyment – whether playing solo or with friends.
Monkie Kid's Team Secret HQ measures over 15" (40cm) high, 16" (41cm) long and 9" (23cm) wide in boat mode, opening up to 35" (89cm) long, and makes an eye-catching display item in any child's bedroom between playtimes.
This collectible toy playset is built solely with LEGO® bricks and powered by children's imaginations – no batteries required – so their playtime Monkie Kid missions will never run out of energy!
Kids can enjoy a digitally enhanced building experience with Instructions PLUS, available in the free LEGO® Life app, which allows them to zoom into, rotate and visualize this unique toy while they build. Fabulous!
Educational LEGO® Monkie Kid™ building toys, inspired by mythical tales from China of the Monkey King, help children to nurture their bravery and resilience while enjoying many hours of creative fun.
Youngsters won't need Monkie Kid powers to connect or pull apart LEGO® building bricks! They meet the highest industry standards, ensuring consistency, a perfect, easy connection every time and robust building.
LEGO® bricks and pieces are tested in almost every way you can imagine to make sure that this creative toy building set for kids meets the highest global safety and quality standards.
---